What's your favorite MPR rocket(s)?
the phantom, or the tiny little hobby store?
My favorite MPR kit is the Mercury Engineering Hijacker. It was my first true MPR rocket.
---
My favorite scratchbuilt MPR is my Slipstream. I've flown the heck out of that poor thing!
(11-22-2015, 01:28 AM)

Qquake2k Wrote: My favorite scratchbuilt MPR is my Slipstream. I've flown the heck out of that poor thing!


Of course the Slipstream can find the only spot for miles that is covered in rocks...  a dried up stream bed.  That has got to be annoyng.
.
NAR #100544
"The Guide says there is an art to flying", said Ford, "or rather a knack." 
"The knack lies in learning how to throw yourself at the ground and miss."
Launching is Optional... Landing? That Depends on Trees.
Better than a wet stream bed...
Mike L.

Level 1 Loc Cyclotron CTI H 90
NAR# 97175
Member: CMASS
my favorite is as hard to determine as my least favorite!
but as of now id say my aerotech mirage, my first rocket that took me beyond bp motors.
my first experience with ap, first experience with way too long delay, and first experience rebuilding.
but since then i have over 40 launches on it from an f-50 up to i think it was an H180(cant remember exactly. it was back in 2001 i did that).
that went(and will go) to every launch i attended or had and flew every time.

my least favorite are the ones i dont have, but would be my favorites if i had em, which im lookin at some nike's.
always loved that rocket.
(03-17-2016, 09:32 PM)

dixontj Wrote: I would vote for my (well used to be mine; and I built it) TLP MIM-23A 2.6" (http://www.unclemikesrocketshack.com/TLP/Hawk.html).
Sounds like time to get building again!
Greg Young - L3
TRA 00234
NAR 42065

05-01-2016, 10:27 AM (This post was last modified: 05-01-2016, 10:29 AM by JERRYR708. Edit Reason: spelling )
I have built and flown only one MPR and that would be the Magician. I like that it comes with a fin jig in the kit making flights very straight and a breeze to build. The fins are solid and beefy and can take hard landings with the fin pattern not making contact to the ground. Takes E and D motors with a spacer included in the kit. Magician has a clear payload section for an altimeter, though the clear payload tube is a little loose, you can put masking tape around the nose shoulders without issue. The rocket has a small diameter to achieve greater heights.

The Magician for me was a great transition from LPR to MPR and is classified as both depending on what engine you want to put in it. The Magician will take the back burner on this thread because it is on the smallest end of the MPR engine spectrum, but until I build and fly something bigger and better, heck what do I know right?
05-01-2016, 12:11 PM
Semroc SLS Hustler.  I shreaded my first one on an H.  Built a second, lost it, had it returned in pretty decent shape, and have a 3rd unbuilt.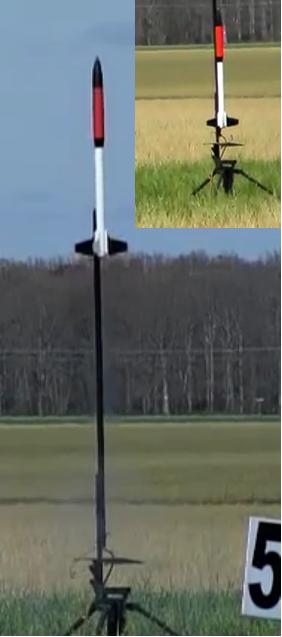 Users browsing this thread: 1 Guest(s)